St. Mary's of the People
Catholic Church
Hunter River, PEI
History of St. Mary's of the People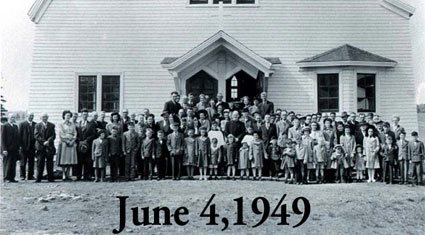 The history of St Mary's of the People begins in August, 1943, when Father J. Clarence Pitre, Pastor of St. Augustine's Parish, held a Parish meeting. At this meeting he informed the parishioners of his intention to build a mission church in Hunter River. A committee of parishioners was formed to oversee the new church. The committee members were: John J. Gallant, Joseph G. Gallant, Amos Gallant, Benoit Martin, Jeremiah Doucette, Cornelius Doucette, Clarence McGuigan and Father Clarence Pitre.
On July 30, 1946 Clarence McGuigan of Hunter River conveyed land along Route 2 for the building of the church. The construction of the church was completed during 1948-1949 by building contractor Walter Reid. On June 4,1949, St. Mary's of the People was opened, serving 20 families with Father Clarence Pitre as Parish Priest. On August 27, 1950 the church was duly blessed by His Eminence James Cardinal McGuigan. The church is named after the Cardinals titular church in Rome, Santa Maria Del Populo.
In 1956, the Parish received a new Parish Priest, Father Joseph LeClair. Father LeClair was with us until 1967 when he was replaced by Father Nazaire Gallant. On October 11,1976, Clarence McGuigan conveyed land for the parish cemetery behind the church. In 1978, Father Gallant was transferred to Immaculate Conception Church, Palmer Road and Father Preston Hammill became our Parish Priest.
On January 29, 1979 St. Mary's Parish Council was established with Reg Chapman being elected Chairman. In 1979 The Diocese of Charlottetown established a $10,000 memorial fund in honor of Cardinal McGuigan. In 1980 there were many alterations at the church, including: an Island stone signboard designed and constructed by Theo Wiegers, altar murals designed and painted by Father Adrien Arsenault, stained glass windows installed commemorating Cardinal McGuigan and designed by Island artist Henry Purdy, and a room set aside at the entry of the church for Cardinal McGuigan's memorabilia.
In 1985 the Parish was given a new Parish Priest, Father Justin MacDonald. Unfortunately, only about a year later, Father MacDonald took ill and passed away on March 31,1987. During Father MacDonald's illness we were served by Father Arthur Pendergast and several other priests from the diocese. On May 18, 1987 St. Mary's assumed responsibility for maintaining parish records and finances. In 1987, we once again were given a new Parish Priest in Father Andrew MacDonald. In 1988 Father Lee Gillis took over serving our Parish. On May 27,1990 Ted Grant was elected Chairman of the Parish Council.
In 1991 Father Gillis left and for a second time Father Preston Hammill became our Parish Priest. On July 7,1991, the parish's first annual Parish Fair was held on the church grounds. In 1996, Father Hammill retired from active priesthood. From 1996-1997, our Parish Priest was Father Clifford Murphy. He was succeeded by Father Lyndon Hogan in 1997. In July, 1998, Desi and Carolyn Nantes were elected as co-chairs of the parish council. On June 28,2001 we saw Father Hogan leave our Parish. He was replaced by Father Garth McKearney. In the spring of 2001, the offical St. Mary's of the People website was published online.
In the summer of 2001 there was additional parking for the church constructed along the eastern side of the church's property. Our Parish Council elected Brent Gallant as Chair of the Parish Council in 2004. Saddly in 2004 Father Garth was stricken ill and passed away in August of that year (please see tribute to Father Garth here). Once again Father Hogan came to our parish as our parish priest until June of 2005 at which time Father Phil Callaghan was appointed to our parish.
A monument was constructed at the entrance of the Parish Cemetery in the summer of 2005 by Alex Doiron, Robert Gallant, and Brent Gallant. In August of 2005 our parish joined St. Augustine's of South Rustico, St. Anne's of Hope River, and Stellla Maris of North Rustico in a Pastoral Unit administered by Father Phil. September 2005 saw Sister Audrey Brocklehurst join our Parish community as Pastoral Associate. In the summer of 2006 there was a change yet again when Father Frank Jay joined our parish. At present time the parish serves 63 families, consisting of 198 parishioners, including 119 children.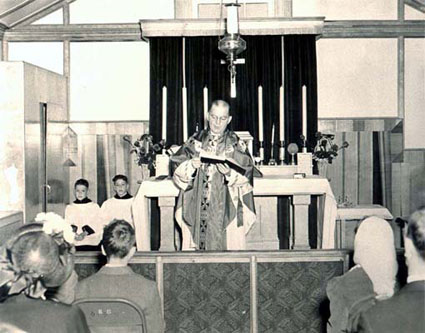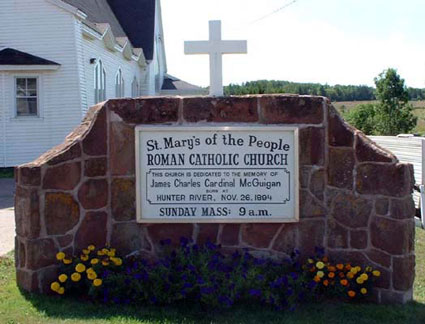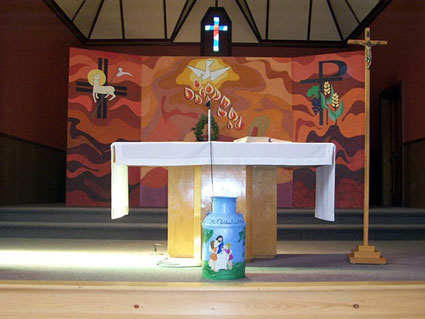 Past and Present Spiritual Leaders